Learning Your Way
Do you have an upcoming professional development day for your staff and you're looking for quality trainings? In addition to purchasing bulk on-demand courses, IMPACT also offers live professional development. See below for a list of our currently offered live trainings.
Recommended duration of each live IMPACT training is indicated below. Training durations may be flexible and can be adjusted for your needs. Live trainings are based on the same foundation as online courses but include additional interactive learning activities. Trainings marked with an * are also offered on our online platform.

To offer live trainings, 6 weeks notice is recommended to secure your spot. Pricing and availability will be shared by an IMPACT team member once you submit the Request Live Training form.

Live trainings are offered virtually via Zoom nation-wide. On-site trainings are available to residents of King County, Washington. Other geographic regions can request on-site trainings and additional travel surcharges will apply. Please submit a Live Training Request for fee structures.
2 Hours
Beyond the Sensory Table: Classroom Strategies for Sensory Play*
Are you looking for fresh ideas for sensory play in your classroom? Did you know we actually have eight senses? Come learn how each sense develops from infancy through childhood with experiential activities that bring our sensory systems to life. Sensory play is fun for children and teachers alike, so we want to harness the power of sensory play to promote learning and development. Look beyond the sensory table and learn how to incorporate sensory play into all classroom routines. You'll leave this training with over 50 fun sensory activities to do with your class and new ways to jazz up your sensory table with toys and materials that get kids excited to use it.
1.5 HOURS
BYE-BYE BITING! STRATEGIES FOR PREVENTION & RESPONSE
Biting is one of the most common challenging behaviors experienced in early learning classrooms. It can be difficult to address within the classroom and with families. In this training we will offer; practical strategies for preventing biting behavior, responding to bites that happen, and how to effectively communicate with families. Participants will be able to join in discussions, ask questions, and receive handouts which support using strategies after the training.
2 hours
Challenging Behaviors Part 1: Practical Skills for Challenging Behaviors in the Classroom
Challenging behaviors in child care can be one of the most difficult and frustrating tasks facing early learning providers. Join us as we present practical tools and research-based strategies geared toward positive, proactive behavior management in the classroom. Participants will learn to identify the function of behavior by examining triggers and effects. We will also develop new mental models for assessing behavior by shifting our perspective and viewing behavior through a sensory lens as well as a trauma lens. Participants will have opportunities to engage in exercises and collaborative conversations that build upon these ideas and generate solutions for challenges that are being experienced in the classroom.
1.5 hours
Challenging Behaviors: Classroom Zoning & Shadowing
This training is part of our Challenging Behaviors Series. In this session, we will explore the ways that zoning and shadowing in the classroom can reduce challenging behaviors. We will demonstrate methods for overall effective classroom zoning, as well as provide templates for teachers to map their own classrooms. Zoning is a strategy that teachers are likely already doing, ensuring that appropriate supervision occurs throughout the day. But what happens when zoning isn't enough to capture the moments in the classroom that lead to challenging behaviors? Shadowing is a more focused observation/supervision strategy that can be helpful in these situations. We will discuss and demonstrate ways that shadowing can be effective in supporting specific children in the classroom.
1.5 Hours
Group Mealtimes: Picky Eating and other Special Considerations
Group mealtimes in child care are an important opportunity to support healthy relationships with food, teach independent self-help skills, engage in meaningful conversations, and promote social inclusion. In this session, participants will learn how to navigate special considerations at mealtime, so that ALL children can fully participate. First, participants will examine strategies for supporting picky eaters and how to promote food exploration for all children. Next, participants will explore ways to create a culturally inclusive mealtime. Lastly, participants will learn strategies for promoting safety and inclusion for children with allergies and individual care plans at mealtime. Throughout the training, participants will explore case studies that will help them build their tool kits for offering inclusive group mealtimes.
2 Hours Introduction to Autism Spectrum Disorder*
Autism affects 1 in every 44 children. This means you're likely to have a child with autism in your class every 2 to 3 years. Do you wish you felt more confident understanding and supporting children with autism? This is your opportunity to have clinical knowledge about autism translated in a way that's useful for early childhood professionals. We'll take you on an in-depth exploration of what autism is and how to recognize signs and characteristics of autism in young children, complete with real-world classroom examples and ideas to take with you. You'll leave feeling more prepared to partner with families – whether you have developmental concerns about a child or their child already has a diagnosis. If you've been working with children with autism for years, or if you're just starting out, this course is for you!
This training is a mandatory pre-requisite for IMPACT's Autism Spectrum Disorder training series. Attend this introductory training first, then have access to our more advanced, strategy-focused offerings for supporting children with ASD.
2 Hours
Introduction to Inclusion in Early Learning*
This training introduces the concept of inclusion in early learning through an equity lens. We will present the benefits of inclusive practices in early learning for both typically and non-typically developing children through research and practical experience. Barriers to inclusion will be discussed and how to problem-solve these challenges to support inclusion in early learning programs. Environmental adaptations and effective practices will be discussed and participants will learn concrete techniques for increasing inclusion in their programs to best serve children of all abilities.
2 Hours
Partnering with Families – Strategies for Successful Communication
Communicating and collaborating with families in the early learning setting can help to support learning, to identify developmental delays or concerns, to accommodate special healthcare needs, and to generally provide a supportive environment and experience for all children. This training will identify the benefits of close collaboration with families and spark ideas that teachers and administrators can use to increase family engagement in their program. Reflective questions and small group discussion will guide participants as they learn ways to overcome barriers to family participation, as well as specific communication strategies to move toward collaborative partnership with families.
2 Hours
Sensory Strategies and the brain: promoting self-regulation and learning*
Do you like roller coasters? Do you hate spicy foods? We all have sensory preferences that guide the things we seek out and the things we avoid. Many "challenging behaviors" are actually a child's attempts to regulate their sensory system, so join us to learn how to recognize sensory-seeking and sensory-avoiding behaviors in the classroom. This course teaches brain-based strategies that effective teachers use to get entire classrooms of children regulated and ready to learn. We put this into practice with a case study to identify an individual child's sensory needs and walk through the whole process together – connecting a child's behaviors to their sensory needs and then creating an easy-to-follow plan for supporting those needs in the classroom. As a bonus, you'll get a printable Sensory Matrix template that you can customize for your students and use again and again in your classroom.
2 Hours
Autism Spectrum Disorder: Language and Communication Strategies*
Are you ready to expand your knowledge of practical strategies for helping children with autism build their vocabulary? Do you wish you had techniques to communicate more effectively with your students? We'll cover how to decide what words to teach first, how to use song as a tool for language learning, and visual strategies like sign language, visual schedules, and First/Then schedules. Come broaden your expertise with proven strategies for supporting language development and learn how to apply those strategies to the unique way children with autism process language.
Years of Experience Delivering Training
different training topics
Inclusion-Focused Training Topics
All of our trainings have a focus on the inclusion of children with challenging behaviors and disabilities.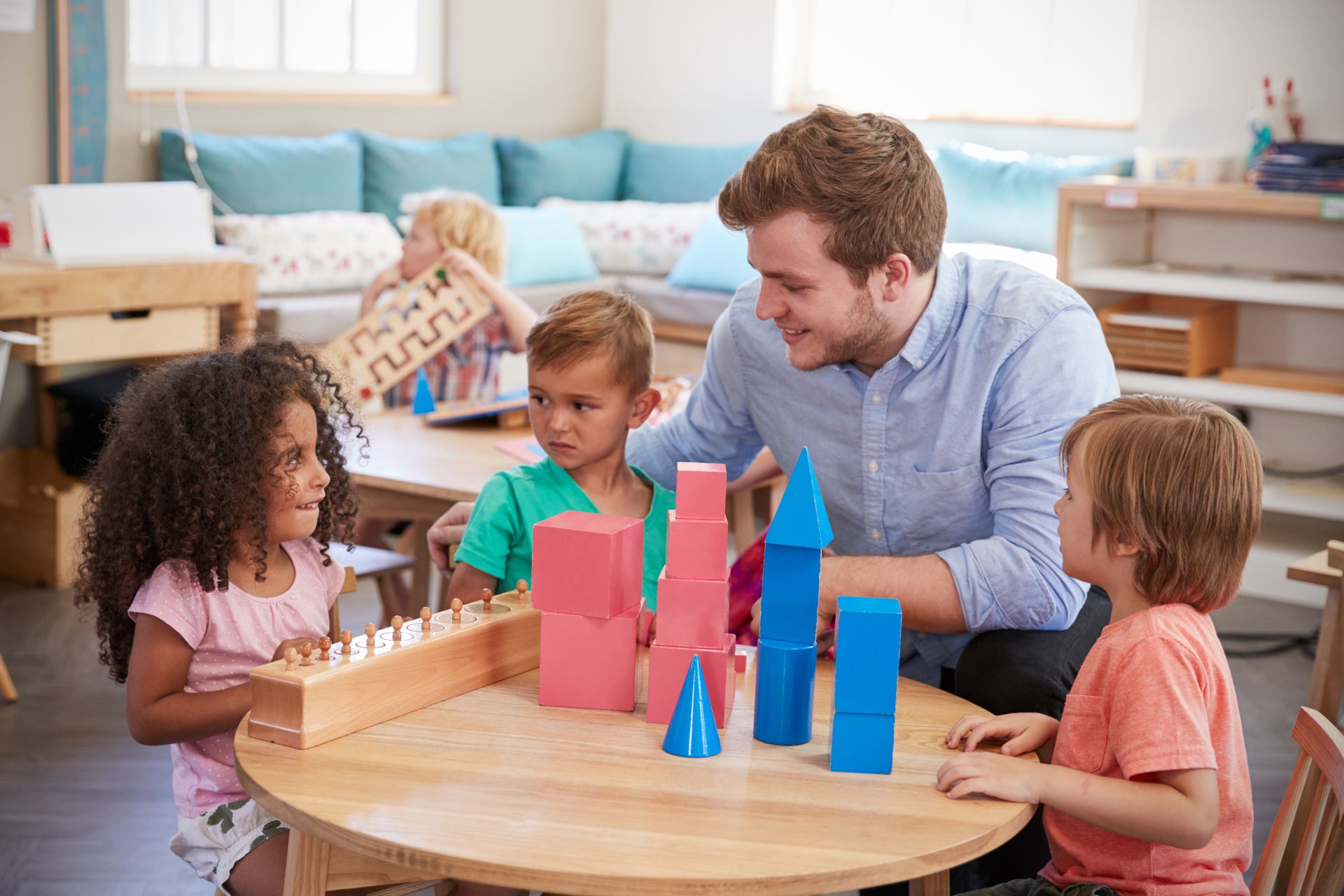 Introduction to Inclusion in Early Learning
"The presenters are clearly skilled and passionate about working with challenging behaviors and helping others to learn effective strategies. They kept such a pleasant pace on an enormous topic. Their graphics, references, video clips were are highly effective too. Loved the Closed Captioning."
- Childcare Provider
All of our professional development offerings are grounded in evidence and best practices in the fields of early childhood education, child development, infant and early childhood mental health, behavioral health, attachment theory, trauma-informed practices, and early childhood therapeutic services. Courses are provided with a goal of embracing, affirming, and promoting neurodiversity. While all course and live training materials are developed based on gathered current evidence and input from advocates, information is always evolving. Every effort is made to incorporate new thoughts, experiences and perspectives as course content is updated.
Are on-demand courses a better fit for you or your program?
Select courses from our diverse library of topics
{{ 'component_1595959289459_36' | dynamic }}